Acoustic Guitar Workshop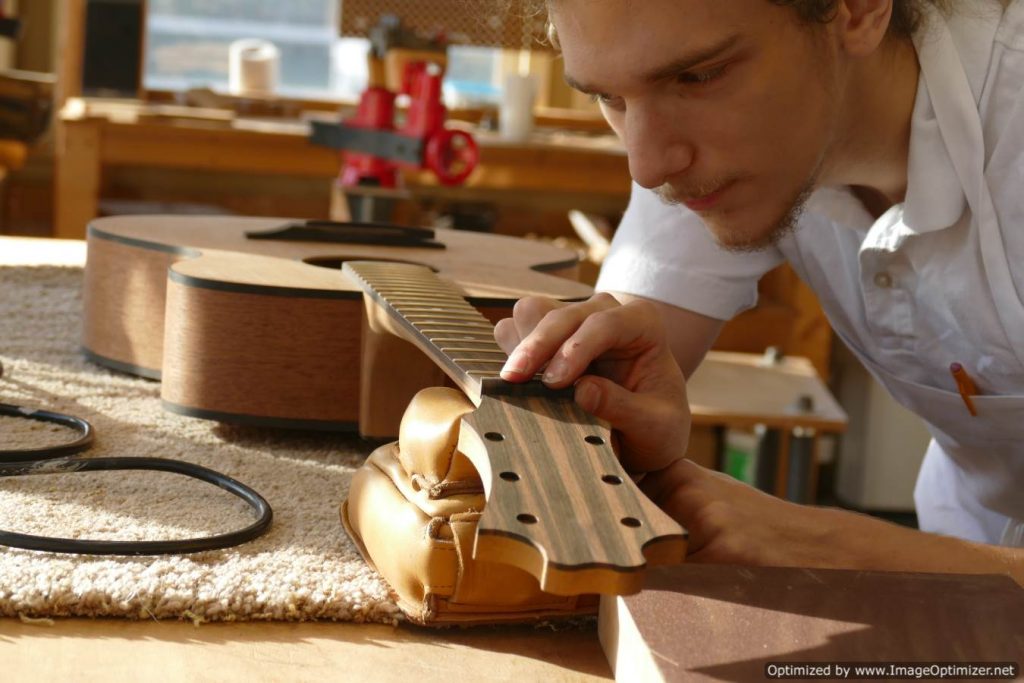 This is a 9 day course where you will build your very own flattop, acoustic guitar out of exotic tonewoods, from start to finish!
The course is taught with just 2 students under the direct supervision of Luthier Eric Schaefer, so you can expect individualized attention on your guitar.
All parts and materials are provided. No experience necessary.
At the end of the week you will have your own handcrafted guitar, the skills to build more guitars, and a deep sense of pride in your work.
Special Note: To promote a continuing education in Lutherie, the online courses "Building an OM Acoustic" and "Tru-Oil Finishing: A Method for Acoustic Guitar" are given free to each student upon completion of the Acoustic Guitar Workshop. These courses include:
more than 60 detailed instructional videos to assist students in continuing to build at home
a year of discounts to Stewart Macdonald, Luthier's Mercantile International, and Eric Schaefer Guitars to help students tool up after the workshop
access to a private member's forum so students can get their questions answered and build community with amateur and professional builders alike.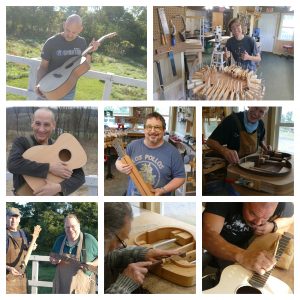 Acoustic Guitar Workshop
Cost: $3,950 + materials($1,150)
Course Dates
---
2023
FALL
September 22 – 30 (FULL)
October 6 – 14 (FULL)
October 20 – 28 (FULL)
November 3 – 11 (2 spots left)
WINTER
December 1 – 9 (2 spots left)
December 15 – 23 (2 spots left)
---
SIGNING UP
REGISTRATION INFORMATION
1. To schedule the week for your class, please call 610-639-2777 or email eric@ericschaeferguitars.com with your preferred dates.
2. Send a deposit check for $1,150. The remaining amount is due at the start of the class.*
3. All payments should be by Check or Money Order in U.S. funds payable to: Eric Schaefer. Registration confirmation/receipt and further information will be provided to each student by email.
4. Please mail deposit payment to: Eric Schaefer 166 Tulpehocken Street Bernville, PA 19506
---
OR
PAY DEPOSIT WITH PAYPAL
*Note: Deposits are non-refundable and will be forfeit if the student cancels or does not attend workshop.
---
610-639-2777
eric@ericschaeferguitars.com
---
MORE INFO
Classes are held at Eric Schaefer's Guitar Building School in Bernville, PA (just outside of Reading)
The address is 166 Tulpehocken St., Bernville PA 19506
Coming from out of town? On-site lodging is offered at $850 for the 9 days. Also, there are several hotels in the area.
---
Reviews:
"Great class. Eric offered a practical, hands on opportunities to acoustic guitar building and brought his own, significant depth of knowledge of the subject to the workbench. Having built electric guitars prior to participating in his class, I had a solid understanding of what building an acoustic instrument would require. Eric helped customize my building experience and provided excellent insight into the nuance of crafting an acoustic guitar. He clearly knows his way around a build and has a lot to offer his students. Highly Recommended!!"
– Matt Hurley
" I would highly recommend taking a class with Eric to anyone who has ever considered building a guitar for themselves. I took the class along with my father in early 2014. I had previously built a classical guitar in my garage, using books and online videos as a resource. My father had no prior experience. We both achieved very good results.
The environment is comfortable and spacious. Eric is attentive and involved in every step, taking the time to explain things carefully so that you have confidence in yourself. I learned a great deal during our class. It was a very nice experience and I would encourage anyone to try it for themselves."
– Robert McSulla
"Great workshop! The guitar I built is phenomenal! Eric is very knowledgeable and a great guy! I would definitely recommend attending one of his workshops to anyone interested. I may even do another one."
– Chris Pulli
"Eric is an artist, a luthier, and a great teacher. He is very knowledgeable, and can explain what he is doing in terms that are easy to follow and understand. He builds beautiful guitars, and his class will help you to build one, too! Highly recommended!"
– Jim Boettger
"Most guitar building courses are two weeks or longer. After 8 days in Eric's shop, I had a guitar that looked and sounded great."
– Jeff Bartholomew